Black Isle: 'Crofting' vital to economy
Like Tintin, I've been for an adventure on the Black Isle. No sign of Captain Haddock and it is neither an island nor black. But it did offer an interesting tale of small business Scotland.
The most telling fact I've learned is how important small firms are to rural and village Scotland. Apart from the council, the small Eilean Dubh Restaurant in Fortrose is the biggest employer in the district.
It had 18 staff going into the downturn, most of them part-time, running from breakfast through lunch, coffee shop and dinner. It's now got less business and it's down to 11 staff, with the same turnover but higher costs.
The co-owner of the business, Graham Law, is now unable to take a salary out of the business, so he's spending much more time working with his tractor as an agricultural contractor - and on his small farm, which supplies the restaurant and is vital to keeping it afloat.
The biggest blow he suffered through the downturn was the increase in VAT to 20%, now absorbed into most people's calculations but still squeezing his business very tight.
Mixing different part-time jobs is a long-established part of the Highland economy. In other areas, it's more often known as crofting and it's becoming more of a feature of the economy in other parts of the country.
Clydesdale miracle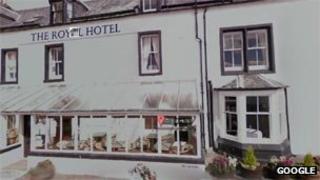 Along to Cromarty, 25 miles north-east of Inverness, I met Kirsty Pryor, one of six people who work for Calico, an internet service provider on a small scale but one that's hardly noticed the downturn.
Having a website and managing e-mails has remained an essential for its business clients and, while some have collapsed, the downturn has led to many more people going freelance and self-employed, setting up their own small businesses and needing these services.
At the Royal Hotel in Cromarty, Jenny Henderson performed a near miracle by persuading the Clydesdale Bank to back her purchase of the business three years ago. Room bookings held up last summer, while others suffered an Olympic effect of the usual, largely English, clientele staying away.
Staying open through the winter wouldn't make much sense to most accountants, she admits, but she sees the business as providing an important social hub for the village. People have less money to spend in the public bar and that's what is hitting her figures most.
It's noteworthy how many businesses work together on their supply chain. Restaurants buy from local farms, the Black Isle and Cromarty breweries and the Cromarty pottery, making for a distinctive, high-quality offer for which they can charge premium prices.
Ms Henderson buys from her brother's farm. And he has diversified out of beef and barley to buy the ferry that runs across the mouth of the Cromarty Firth between Cromarty and Nigg. A summer service for now, he hopes the build-up of activity at the Nigg fabrication yard could justify year-round operations.
Global jobs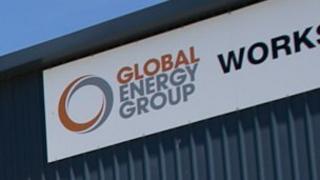 But, as with the Scottish economy as a whole, it's oil and gas that's keeping much of the economy going. Global Energy, its headquarters split between Inverness and Aberdeen and part-owned in Japan, is opening up Nigg with high hopes for a lot of jobs being created there.
However, the Black Isle economy also has a hidden success story of people who live rurally and enjoy the lifestyle while commuting to wherever the oil and gas industry requires them.
Many of them source their work through Orion Engineering Services, an Inverness company, wholly owned by Alan Savage. He has offices in 34 countries, most recently opening in Kuala Lumpur and Papua New Guinea, hoping to turn over £400m this year following average annual growth of 15% for the past 25 years.
He turned a profit in the latest financial year of £9m, employing 120 people and showing you can run big companies out of his adopted Highlands.
And the flow of funds through his accounts is vital to that self-employed contracting workforce across much of rural Scotland.
You can hear more about the Black Isle and wider Highland economy on Business Scotland, now available on the BBC iPlayer and by free download.