Jobs boost as furniture firm CSL expands into Scotland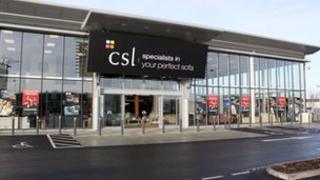 A furniture maker and retailer is expanding into Scotland and creating more than 100 jobs.
CSL makes sofas and has announced its intention to invest £4m, opening a distribution centre by May on the M8 corridor between Edinburgh and Glasgow.
That is to support new stores, starting with one near Glasgow Airport in Renfrewshire which is expected to open before Easter.
CSL already has 22 stores across the UK.
Last year, the company's gross revenue grew by 43% to £110m.
Revenue over the Christmas and New Year selling season was 15% up on 2011-12, driven by a boost to its direct orders and online business.
Jason Tyldesley, CSL's managing director at its headquarters near Warrington, said customer loyalty and sales had been helped by "a unique 'love it or exchange it' guarantee which takes the uncertainty out of buying a sofa".
He added: "The strength of our performance during the last 12 months has given us the confidence to continue our investment and expansion.
"Our big focus is on expansion into Scotland, South East England and building our direct and ecommerce business, which has been a major part of our organic growth during the last year."