Super Bowl: Power firm Aggreko 'not affected' by outage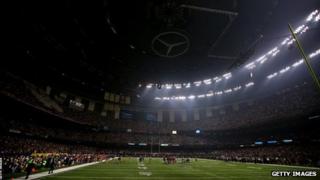 Temporary power firm Aggreko said its equipment operated "flawlessly" during a power failure which disrupted the Super Bowl in New Orleans on Sunday.
Aggreko kept its power running throughout the event - despite an outage which hit the Superdome stadium's lights.
The Glasgow-based firm was responsible for powering broadcasts and part of the half-time show, which featured Beyonce.
Aggreko said it had no reported outages.
It was the 23rd time the company had provided power for the top annual US sporting event.
Aggreko provided the stadium with 15MW of electricity - enough to power more than 6,000 homes.
Super Bowl XLVII was halted for 34 minutes after half of the Superdome's floodlights failed during the third quarter of the national American football final.
The Baltimore Ravens went on to beat the San Francisco 49ers 34-31.
Asterios Satrazemis, Aggreko president for the Americas, said: "It is always an honour to be part of such a major global sporting event and we are proud that the service we provided this year remained robust throughout the event."