Clydesdale Bank overhaul 'makes good progress'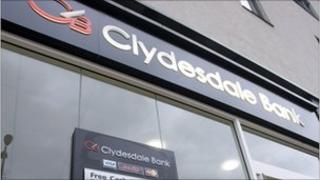 Clydesdale Bank's parent company has reported making "good progress" in its drive to restructure its UK operations.
National Australia Bank (NAB) has been shedding jobs and overhauling its business in the UK following a strategic review.
Clydesdale reported a pre-tax loss of £183m for the year to September.
The Glasgow-based lender, which includes Yorkshire Bank, also saw bad debt rise by almost 90% to £631m.
Its latest trading update, however, reported improved earnings in the UK in the last quarter.
Along with Yorkshire, Clydesdale has been cutting costs - with 468 jobs shed during the 12 months to September.
NAB plans to cut a total of 1,400 jobs by 2015.
During the last quarter, NAB took over Clydesdale's commercial real estate portfolio as it seeks an exit from commercial property lending.
NAB also said restructuring of its core UK banking business was "proceeding well" - with lower costs, an improved funding mix and closure of all of its 38 targeted financial solutions centres.
NAB's UK chief executive David Thorburn said: "Good progress has been made in the relatively short period since the outcomes of our strategic review were announced in April.
"The restructuring continues to gather momentum and, while there is still much more to be done, our clear focus remains on further strengthening the business through a simplified business model built on our traditional strengths."