GMB union outlines Scottish 'blacklist' areas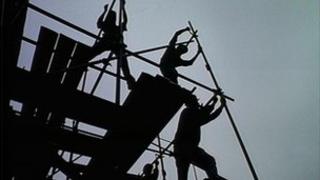 A union has launched a bid to track down construction workers in Scotland who it says were blacklisted by the industry.
GMB has released a table of 582 unnamed workers across 97 locations.
The move follows recent disclosures about a UK-wide database of 3,000 names used to vet workers in the construction sector for more than 15 years.
The union said most people were unaware they had been blacklisted and appealed for former workers to come forward.
The existence of the blacklist was exposed after a raid by the Information Commissioner's Office (ICO) on an organisation called the Consulting Association in 2009.
The raid confirmed that construction companies had been checking potential employees against a blacklist.
GMB said less than 10% of those affected were aware they were on the list.
The blacklist included details ranging from employment history to trade union activity and other personal information.
Campaigners have claimed it blighted lives by denying people employment.
Union table
GMB said its Scottish table, which lists locations where workers either lived or worked, was supplied by ICO.
According to GMB, Glasgow had the biggest number of blacklisted workers - 138 - followed by Edinburgh, which had 52.
Others areas with significant numbers included Dundee (21), Grangemouth (19), Peterhead (16) and Ardrossan in North Ayrshire (15).
GMB said it was checking its own records to find members who were on the blacklist.
It has asked solicitors Leigh Day to prepare a legal case for compensation, at no cost to members.
In a statement, the union added: "Construction workers from these areas who were trade union and health and safety activists and were denied work for reasons they could not explain are asked to get in touch so that GMB can cross check the records for them."