PMI survey: Scottish economy gains momentum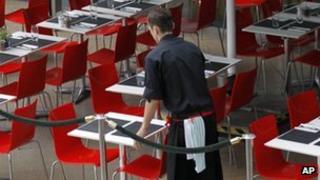 The Scottish economy gained momentum at the start of the year, according to a survey of purchasing managers.
The Bank of Scotland PMI report suggested the highest level of business activity for seven months.
It also indicated that output and new work picked up for businesses last month.
The report said improved business conditions and extra pressure on operating capacity led firms to create more jobs in January.
This latest expansion of Scotland's private sector economy was broadly in line with the rate of growth seen at the UK level.
Growth remained centred on the services sector, according to the survey.
Scottish manufacturing output contracted modestly in January, marking the seventh consecutive monthly fall in production levels in the sector.
Input price inflation continued to ease, although remained sufficiently strong for businesses to raise output charges.
The report said much of the improvement in business activity reflected an accelerated increase in new work placed with firms during January.
Intakes of new business rose for the second month in row, and at the fastest pace since March 2012.
Job creation
Firms continued to add to their payroll numbers during January, raising employment levels for the seventh time in the past eight months.
However, the report said the overall rate of net job creation was still modest and slower than the UK average.
Respondents also suggested that cost burdens rose again in Scotland as a result of higher fuel, labour and raw materials costs.
However, the rate of inflation in operating costs eased to its slowest pace in seven months.
Output prices, meanwhile, increased on average.
Bank of Scotland chief economist Donald MacRae said the Scottish economy had "gained momentum" in January.
"Both the level of new business and employment rose in the month but were concentrated in the service sector," he commented.
"The rate of decline in manufacturing output was modest and has eased since the previous month but export demand remains weak.
"This result suggests the Scottish economy not only started the year in growth mode but has maintained moderate growth throughout January 2013."