Super Puma grounding hits Aberdeen air traffic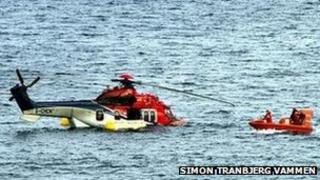 The grounding of a Super Puma helicopter model following an incident off Shetland last October has hit growth in passenger numbers at Aberdeen International Airport.
The airport posted a 0.6% increase in traffic last month, compared to the same period last year.
But helicopter passenger numbers declined by more than 11% in January.
Super Puma EC 225 models have been grounded since a helicopter put down in the sea on 22 October.
The incident was caused by a cracked shaft in the main gearbox.
Aberdeen International Airport, which is owned by Heathrow Airport Holdings (HAH), said the grounding had dragged down passenger numbers, which overall continued to grow in both the domestic and international markets.
Managing director Derek Provan said: "The on-going issues with the helicopter fleet are having an impact on our figures, and we are working closely with all three operators to understand their respective operational issues.
"We had a positive year in 2012, and we are starting 2013 with further growth, however this set of figures reflects how challenging the market remains."
Weather disruption
Meanwhile, almost 412,000 people travelled through HAH's other Scottish airport - Glasgow - in January.
Passenger numbers were slightly down on the same period last year.
The airport blamed disruption caused by low visibility and snow at other UK airports, which resulted in the loss of 8,000 passengers at Glasgow.
Managing director Amanda McMillan said: "Given the positive start we made to the year with the news 2012 had been our busiest year since 2009, it was frustrating to see passenger numbers take a slight dip as a result of poor weather conditions elsewhere.
"However, in terms of route development we continued to make significant progress, carrying on where we left off in 2012, with the announcement Wizz Air will operate flights to Warsaw and Gdansk from March.
"The addition of two major European cities to our list of destinations is particularly pleasing as was the decision by Flybe to introduce a year round service to Shannon in the west coast of Ireland."