Rics survey: House sales up but prices still dipping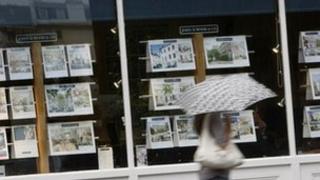 Scottish house sales rose for the third month in a row in January, but prices continued to dip, according to a monthly survey.
A higher percentage of surveyors reported an increase in the number of newly agreed sales last month.
But 26% more respondents said house prices fell rather than rose.
The Royal Institution of Chartered Surveyors (Rics) said it seemed the cautious recovery seen in some parts of the UK had not translated to Scotland.
Its latest survey suggested demand from would-be purchasers had dipped since the start of the year, with a net balance of +19% of surveyors reporting a fall in new buyer inquiries during January.
This was accompanied by a slight increase in the number of homes coming up for sale.
Throughout the UK, prices were in positive territory in London and the South East, as well as in Wales.
Rics said chartered surveyors in Scotland expected prices to continue to dip over the coming three months.
Sales levels are also expected to edge lower.
Confidence 'returns'
Rics Scotland director Sarah Speirs commented: "Price falls across the UK have gradually stemmed in recent months and it is interesting to see that the amount of completed transactions are on the rise as confidence returns to the marketplace.
"While it is still very early days to talk about a comprehensive market recovery, activity levels are encouraging and there is some optimism out there that things could continue to improve."
This week, a survey by property firm S1 suggested people selling detached homes in Scotland had been setting unrealistic asking prices.
The firm, which has a large share of Scotland's house advertising market, said the average offer for larger homes was 20% below the average asking price in the three months to December.
Flats, semi-detached and terraced houses attracted offers over the asking price during that period, S1 said.
However, it added that the average home was going for 6% less than the asking price.