Scottish Retail Consortium: food sales boost for shops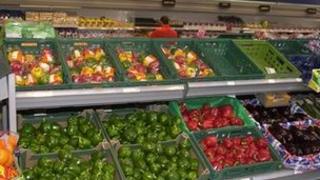 A sharp rise in food sales last month lifted Scottish retailers to their best performance for almost two years, according to a sector survey.
The Scottish Retail Consortium (SRC) said total sales grew by 2.1% in January, with food sales up by 5.2% on a year ago.
Non-food sales declined by 0.7% on the previous January.
The overall figures suggested the strongest year-on-year growth in sales since April 2011.
The upturn was similar to that experienced in the UK as a whole.
The KPMG-SRC survey indicated food and drink results were boosted by the inclusion of New Year's Eve in this year's January figures.
Last year it was included in the December survey results.
Detox diets
SRC said fruit and vegetable sales were boosted by the popularity of detox diets.
Sales in Scottish produce, including whisky, also increased as customers celebrated Burns Night.
Clothing and footwear was the strongest non-food category, with winter weather encouraging people to shop for boots and seasonal clothes.
Men's clothing was the best performing segment in this category, helped by strong demand for boots and formal footwear.
However, the survey also suggested that consumer confidence remained subdued in Scotland, in contrast with the whole of the UK, which saw confidence rise.
'Good news'
SRC director Fiona Moriarty said: "After battling consistently tough conditions through most of 2012, this is good news for Scottish retailers.
"The healthier pace of sales that finally developed in December, gathered momentum in January to produce the strongest year-on-year growth since April 2011.
"The comparison with January 2012, when sales growth was negative, also helped the overall figures.
"But, even so, this is an encouraging start to what's still likely to be a challenging 2013. "
She added: "The key question now is: is this just a blip or dare we hope it signals the start of a lasting revival for customers and retailers?"
David McCorquodale, KPMG's head of retail, said January's figures "built encouragingly" on the modest progress made in December.
He added: "It's not surprising that non-food sales remained sluggish, given that January is traditionally the month where Christmas debts are paid off.
"However, retailers generally will look back on successful seasonal campaigns, be relieved that consumers responded well to promotional activity and be glad that they went into the winter with lower stocks."