Horsemeat scandal: Irish meat processing 'clean-up' urged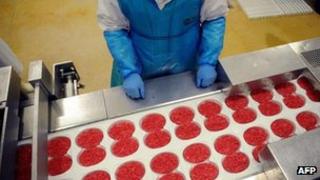 A former chairman of Quality Meat Scotland has called for the Irish meat processing sector to be "cleaned up" over the horsemeat scandal.
Jim Walker said cheap Irish horsemeat had created "temptation" in the retail and processing sectors.
He claimed the scandal had been caused by "the greed of a few people that can't help themselves".
Last month Irish food inspectors said they had found horsemeat in burgers stocked by some UK supermarket chains.
The crisis has since spread all over Europe as details of the convoluted supply chain in the meat industry emerged.
Mr Walker, who is also a former president of NFU Scotland, said he believed the problem had started because food prices, particularly in the retail and processing sectors, had been driven down in the last few years.
'Huge industry'
He told BBC Scotland: "That has coincided with a huge horse industry in Ireland particularly.
"The whole nature of living in Ireland means everybody wants to be in that industry.
"The problem is in the last five years, most people who own horses can't afford to keep them. So there's not a few hundred horses being slaughtered in Ireland every year now - there's tens of thousands of them.
"They have to find their way into a chain somehow and unfortunately, with the price of the horsemeat, minced horsemeat is so cheap.
"We are talking £20 a tonne for horsemeat as opposed to thousands of pounds a tonne for beef."
Mr Walker continued: "This a major problem from the major processing part of the sector, which is across the Irish Sea - and that's where the focus should turn to, to make sure they clean that industry up.
"There is a very good Irish beef industry and Irish farmers are absolutely gutted, the same as Scottish farmers are, that their reputation for excellence and quality has been undermined actually by the greed of a few people that can't help themselves.
"And that is being driven not only by the processing sector over there but by the retailers and the other cheap-end processed meat sellers that are demanding stuff for pennies each - and it just can't be done."
Mr Walker also claimed that at least one Irish meat processing company had been introducing horsemeat into the food chain.
'No evidence'
But the deputy editor of the Farmers Journal in Ireland, Pat O'Keefe, said that claim was not backed by the available evidence.
Mr O'Keefe said: "The facts in front of me, four weeks into this investigation, is that there is no evidence to date to back up the claim that it is coming from an Irish source.
"The Irish ingredients have all tested negative so far and our food safety authority have also done testing in the catering trade and that has all come in negative as well."
Two Northern Ireland Assembly committees are holding a special meeting on Tuesday to debate the issue of contaminated meat.
A consignment of meat at Newry firm Freeza Meats was last week found to contain about 80% horsemeat.
Freeza Meats said it had been storing the meat for a third party and that none had entered the food chain.