Aberdeen firm FirstGroup invests £76m in new buses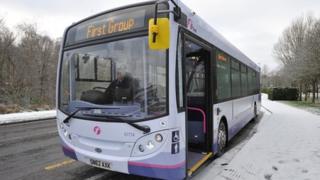 Transport firm FirstGroup has placed orders for 464 new buses in a series of deals worth a total of £76m.
The bulk of the vehicles will be built by Falkirk-based Alexander Dennis and Wrightbus, whose headquarters are in Ballymena, Northern Ireland.
The vehicles, which are mainly single decker and midi buses, are due for delivery in the 2013-14 financial year.
The orders bring First's investment in new buses to about £240m over the last three years.
Aberdeen-based FirstGroup said more than 95% of the new orders would be manufactured in the UK.
Alexander Dennis will build 222 vehicles, while a further 179 will be constructed by Wrightbus.
Volvo Group UK will manage its 37-bus contract from its headquarters in Warwick, while Leeds company Optare will manufacture 18 vehicles.
A further eight vehicles will be ordered, but no decision has been taken over the manufacturer.
First UK Bus managing director Giles Fearnley said: "Investment in our bus division continues apace.
"We are committed to growing our business and encouraging more people to use our services and to use them more often."