Midlothian wind farm plans submitted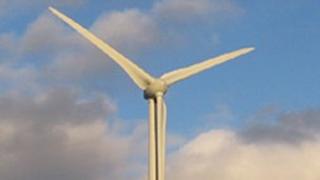 Plans have been submitted for a wind farm which could generate enough power for up to 11,000 homes in Midlothian.
Wind Prospect Developments Ltd would like to install nine turbines about 2km (1.2 miles) south east of the village of Howgate.
If approved by Midlothian Council, the wind farm would have an installed capacity of up to 20.7MW.
The proposal is a joint venture between Wind Prospect Group and EDF Energy Renewables.
The planning submission follows 15 months of consultation with the local community, which Wind Prospect said had resulted in "a number of significant changes".
They included reducing the number of proposed turbines from 12 to nine and relocating individual turbines to avoid impacts on soil, peatland and wildlife.
Wind Prospect development manager Karen Thorburn said: "If approved, the Mount Lothian Wind Farm could deliver significant and meaningful benefits to the local community, as well as to the wider economy.
"It could also generate enough low carbon energy to power many thousands of homes and make an important contribution towards reducing Scotland's reliance for electricity on fossil fuels."