Pernod Ricard: Scotch whisky sales 'flat'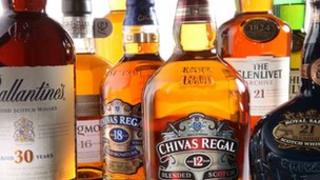 The second largest distiller of Scotch whisky reported flat global sales during the second half of 2012.
That follows sales growth of 12% in the same part of 2011, and adds to evidence suggesting an end to recent rapid growth in global Scotch sales.
Pernod Ricard reported a 4% decline in western European sales, with a 9% fall in Spain.
Figures for Scotch lagged strong growth for Martell brandy and Jameson Irish whiskey.
Across its range of drinks, the company's figures were hit by an alcohol tax hike in its French home market.
Chivas whisky sales were down 10% in France. Total sales reached 4,907m euros (£4,221m), representing growth of 6%.
Helped by favourable currency movements, reported profit was also up 6%, to 1,450m euros (£1,247m).
'Challenging' year
Due to the distiller's emphasis on driving premium brands, in the US, Glenlivet single malt was up 21%, while Jameson rose 24%.
Scotch whisky sales in the second half of last year were "challenging" in South Korea, according to Pernod Ricard's half-year report.
They declined in China, despite growth for other drinks, led by Martell brandy, which drove overall 18% growth.
The 100 Pipers brand was down 7% in Thailand, while Chivas and Ballantine's grew rapidly in Vietnam.
Brazil saw sales of Ballantine's sales up 25%, while Chivas grew 12%.
In Pernod Ricard's champagne sales, Perrier-Jouet sold well in the Americas, Asia and France, but western Europe led decline for Mumm.