Pensions firm Aegon UK reports strong earnings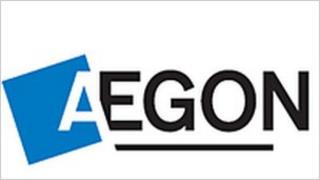 Life and pensions firm Aegon UK has reported strong quarterly earnings for the end of last year as a result of cost savings and a substantial rise in new life sales.
The company made a profit of £20m in the fourth quarter, compared to a £22m loss the previous year.
Edinburgh-based Aegon has shed hundreds of jobs in the UK since starting a cost-saving programme in 2011.
During the quarter, Aegon cut its operating costs by 30% to £69m.
Its results were boosted by a 53% rise in new life sales, to £247m.
However, it also reported that earnings were "negatively impacted" by the implementation of the Retail Distribution Review, which has put an end to financial advisers earning commission on the products they sell to customers.
In 2011, the company, operating under the Scottish Equitable brand, was ordered to pay a total of £60m in redress to thousands of customers following an investigation into the company's procedures regarding customer records.
Aegon was also fined £2.8m by the Financial Services Authority (FSA) for the problems it caused for customers.
These included incorrect pensions calculations, not issuing thousands of policyholder documents and failing to trace policyholders who had moved home.