Aberdeen firm Hydrasun sold to Bahraini investor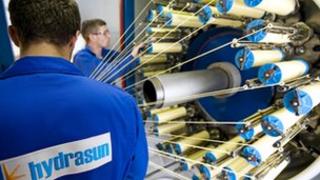 Oil and gas services firm Hydrasun has been sold to a Bahrain-based investment manager.
The Investcorp Gulf Opportunity Fund acquired a controlling stake in Hydrasun from private equity firm Equistone Partners Europe Ltd.
Equistone backed a management buyout of Hydrasun in 2007 in a transaction that valued the business then at £75m.
Hydrasun specialises in fluid control equipment and solutions for the global offshore oil and gas sector.
The value of the transaction has not been disclosed but is reported to be worth nearly £150m.
The deal is subject to clearance by regulators.
Aberdeen-based Hydrasun employs about 600 people and has reported revenues in the current financial year of more than £105m.
The company was founded in 1976 and has operational bases in the UK, Middle East, the Netherlands, Caspian Sea, Brazil, West Africa and the Gulf Coast of the United States.
'Well positioned'
Investcorp president for Gulf business Mohammed Al-Shroogi said: "We are excited about acquiring a leading company in a resilient and rapidly growing segment of the oil and gas sector.
"We believe that Hydrasun is well positioned to continue its growth as it is a leader in its target market with strong client relationships, a unique service offering, experienced managers and a successful business model of local presence and export-led internationalisation.
"We look forward to supporting Hydrasun's experienced management team as it continues to execute its strategy of expanding into new geographies."
The deal is subject to clearance by regulators.