Falkirk call centre firm HEROtsc sold to Webhelp Group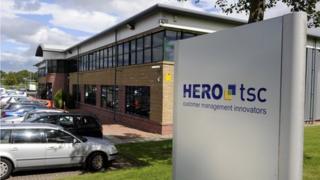 One of Scotland's biggest call centre employers, HEROtsc, has been sold by its Indian owner to a French company.
Falkirk-based HEROtsc was bought by Webhelp Group, which operates 24 contact centres in continental Europe and North Africa.
HEROtsc has 3,000 staff at six Scottish sites and a further 3,000 employees in England.
The value of the deal has not been disclosed but it is understood to be worth nearly £80m.
Webhelp Group already employs 10,500 people and is backed by Charterhouse Capital Partners, which acquired a majority stake in the business in 2011.
Name change
The combined group will have an annual turnover of more than of £300m, and operate a total of 33 centres.
HEROtsc will change its name to Webhelp TSC following the acquisition.
Webhelp TSC will retain its corporate headquarters in Falkirk and continue to be run by its existing management team.
A new marketing office has been established in London, where Webhelp Group founder and co-chairman Frederic Jousset will be based to support the company's growth and development in the UK market.
The deal marks an end to HEROtsc's ownership by the Indian-based HERO Group, which bought the firm in 2007 for £40m.
Over the last five years, HEROtsc has doubled its UK revenues to £82m and grown staff numbers from 2,000 to 6,000.
Turnover is expected to be more than £100m by the end of the current financial year.
'Excellent news'
The company's six Scottish sites are in Dunoon, Falkirk, Glasgow, Greenock, Kilmarnock and Rothesay. It also runs customer contact centres in Dearne Valley, Derby, and Warrington.
Webhelp TSC chief executive David Turner said: "This acquisition is excellent news for our people and customers.
"Webhelp is a dedicated customer relationship management organisation and is therefore totally supportive to accelerate our strategies and ambitions to provide customers with the very best multichannel experience.
"Our management teams share an entrepreneurial drive to push the company forward and achieve new growth across all of our markets."