Weir Group in £55m spending spree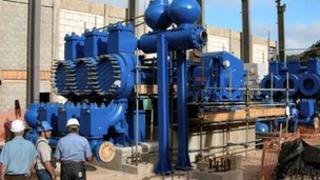 Glasgow engineering company Weir Group has made three acquisitions in three different countries.
The group has bought a Canadian rubber lining firm and foundries in Malaysia and South Africa.
The total cost to the company is £55m which it said it would fund through existing bank facilities.
Weir's chief executive Keith Cochrane said the acquisitions would "enhance the group's presence in important growth markets".
The purchases included the Canada-based R Wales group of companies, which makes specialist rubber and wear resistant linings for the mining, minerals processing and oil sands industries.
In 2012, the Wales Group generated turnover of more than £19m.
Weir also announced it had acquired the business and assets of the Cheong foundry in Malaysia on 6 February.
Based near Kuala Lumpur, the facility supplies castings to a number of industries, including mining and power.
Weir said the move would enable it to add foundry capacity to serve the Asia-Pacific region.
The deal included an agreement to acquire the plant, equipment and buildings of Xmeco Foundry Pty, a specialist large casting foundry in Port Elizabeth, South Africa.
Completion of that transaction is expected in May, subject to regulatory approval.
Weir Group has a presence in more than 70 countries, with more than 14,000 staff.