Clyde Blowers Capital in North Sea expansion move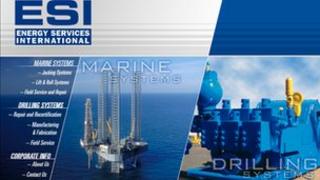 Industrial investor Clyde Blowers Capital is poised to move into the North Sea oil and gas sector after buying a US energy services business.
The East Kilbride firm paid £13m for Energy Services International (ESI), a specialist in equipment for mobile platforms known as jack-up rigs.
Houston-based ESI has a strong presence in the Gulf of Mexico.
But Clyde Blowers said it planned to set up an ESI service centre in Aberdeen as a launch-pad for expansion.
Chairman and chief executive Jim McColl commented: "ESI has an excellent reputation for service and quality, with industry-leading service levels, and it is ripe for growth.
"The company had a turnover of $20m (£13m) last year and we are confident we will increase that to $100m (£65m) over the next three to five years, with a great opportunity to expand initially into the North Sea and the Middle East.
"Over the period, we envisage investing up to another $40m (£26m) in ESI and the Aberdeen service centre would be the first move in that investment."
'Great potential'
Mr McColl said there was "great potential" to transform ESI into a global operation by offering an extended range of services to customers and growing the company's geographic footprint, both through acquisition and organic growth.
"We will also export ESI's capabilities into other key oil and gas regions across the world, including South East Asia and West Africa," he added.
ESI specialises in manufacturing and repairing jacking systems and drilling-related equipment for jack-up rigs - a type of mobile platform used for exploratory drilling and offshore wind farm service.
It also repairs and refurbishes pumping, lifting and hoisting equipment used on offshore and onshore drilling rigs.
Last month, Clyde Blowers bought Parsons Peebles Generation, which specialises in power generation and motors.
The company said the move was part of continuing investment in "mission-critical" engineering firms serving the oil and gas, power and mining sectors.