Scottish Widows survey: Bleak picture for savings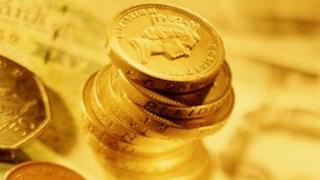 A third of Scottish adults are not making any effort to save for the future, according to a survey by Scottish Widows.
Its annual savings and investment report also suggested that one in five Scots had no savings at all.
Scottish Widows said it painted "a bleak picture" of people's ability to cope with financial shocks that could hit now or in the future.
The online survey was carried out on behalf of the pension firm by YouGov.
It found that 63% of Scots were managing to put something away, while 35% had a total savings pot of less than £1,000.
In addition, 17% of those who expected their financial priorities to change were seriously concerned about job security in the coming year.
The survey also indicated that nearly a third of Scottish respondents with families had loaned "a substantial amount" to their children, often to simply help them meet daily living expenses.
Support was also being provided for higher education and property purchases, with Scottish parents giving an average loan of almost £14,000.
'Increasing pressure'
Scottish Widows said the wider economic climate was increasing pressure on those struggling to save.
More than a quarter of Scottish respondents reported they had been forced to cut back on their savings by rising costs, while a further quarter said they were saving less than two years ago.
Iain McGowan, head of savings and investments at Scottish Widows, said Scots clearly recognised the importance of saving something towards their future financial well-being.
"The importance of building a safety net for themselves and their families is a priority, with 63% of Scottish people reporting that they managed to save some money in the last 12 months," he said.
"However, just a quarter of those people believed they were saving enough to meet their long-term needs, with a further 35% saying they would definitely not be achieving this goal.
"When we are faced with immediate financial commitments, such as mortgage payments and day-to-day living expenses, it becomes absolutely necessary to give these pressing needs priority.
"However, taking a wholly short-term view of our finances will mean we are unprepared for the financial needs and challenges that lie ahead in the future."