Bowleven shares up on Cameroon find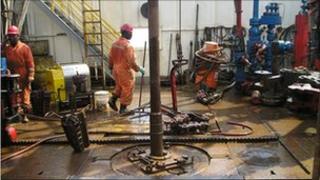 Oil explorer Bowleven's share price climbed by more than 5% after the company said it had encountered "liquids-rich" hydrocarbons off Cameroon.
The Africa-focused firm made the find while drilling at its IM-5 well under the Etinde permit.
A testing programme is being carried out to evaluate the discovery.
Bowleven holds significant stakes in onshore and offshore exploration acreage in Cameroon.
The Edinburgh-based company holds a 75% interest in the Etinde Permit, which is located across the Rio del Rey and Douala basins.
It also holds a 100% stake in the Bomono Permit, which is based in the Douala Basin.
Bowleven chief executive Kevin Hart said: "You never quite know what you have got until you get all the information finally in and correlated.
"But I suspect it is probably the best well we have drilled in the seven years we have been active."
In November, Bowleven and Petrofac announced a strategic alliance to help "unlock the potential" of operations in Cameroon.
Under the arrangement, Petrofac will invest up to $500m to develop the Etinde assets.