Scottish Salmon Company profits hit by higher costs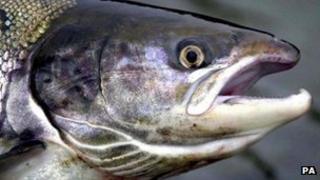 Higher than expected costs on harvested fish have pushed profits down sharply for one of Scotland's largest salmon producers.
The Scottish Salmon Company (SSC) reported a "biological issue caused by sub-standard feed" had affected its stocks in the last quarter.
It said that as a result fish were lower in weight and quality and therefore more costly to process.
The company said the issue was now the subject of "legal negotiations".
SSC's turnover dropped last year to £79.5m from £90m in 2011.
However the firm performed strongly in the final quarter, recording a year-on-year rise in revenue of nearly £10m to £27.8m.
Earnings before interest, tax and exceptional items dropped from £14.4m in 2011 to £500,000 last year.
The firm said "performance issues related to feed" had cost it £1.7m last year.
It harvested a total of nearly 24,000 tonnes in 2012, 1,000 tonnes more than 2011.
The company reported that amoebic gill disease had led to the loss of about 2,000 tonnes of salmon which would have been harvested in the second half of 2013.
'Challenging year'
SCC said its focus remained on planning for the future, with a new seawater site at Gometra on Mull in the process of being established.
That facility and a new site at Loch Torridon in the Western Highlands together are expected to deliver 29,000 tonnes of salmon in 2014.
SCC chief executive Stewart McLelland said: "2012 has been a challenging year and our results, in line with company expectations, mirror wider industry trends.
"At all times, The Scottish Salmon Company has remained resolute in resolving these challenges while maintaining a focus on the long term, which is bringing rewards through new customer relationships and industry collaborations.
"The company continues to see growing market demand for high quality sustainably farmed Scottish salmon and is on course to develop the volume of premium salmon to 29,000 tonnes in 2014."
SSC operates across 59 sites including marine farms, freshwater hatcheries, harvesting and processing facilities and offices, in two distinct areas of operation in the Hebrides and Argyll.
It is currently implementing a £40m investment programme to develop its farming and supply chain infrastructure.