SCDI appoints top lawyer Bill Drummond as chairman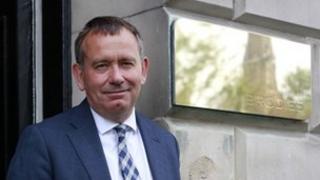 A leading lawyer has been appointed as chairman of the Scottish Council for Development and Industry (SCDI).
Bill Drummond, who is managing partner of Brodies LLP, was unanimously backed by members of the economic development body at its annual meeting.
Mr Drummond first joined the SCDI board in 2004 and has served at the top level of the legal profession for many years.
Earlier this month, he was named UK Management Partner of the Year at the Legal Business Awards 2013.
Brendan Dick, managing director of BT Regions and director of BT Scotland, was approved as deputy chairman of SCDI.
Born in Ayrshire, Mr Drummond studied law at the University of Aberdeen.
He started his training at Brodies in 1980, became a partner in 1986 and was first elected by his partners to the role of managing partner in 1997, aged 38.
Mr Drummond was re-elected in November 2012 to serve a sixth consecutive term from May 2013.
Commenting on his appointment, he said: "I hope that my experience and continuing work at Brodies, advising a wide variety of businesses and organisations operating in Scotland, the rest of the UK and internationally, will be of value to SCDI and its members.
"The economic climate and current constitutional debate will shape the future of Scotland for decades to come, as it will for all our organisations, and I look forward to SCDI playing a pivotal role in informing and supporting Scotland's decision-makers on the actions needed to create long-term economic growth."