Scottish regional newspaper sales continue to slide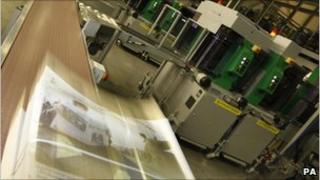 Big changes to the format of two of Scotland's biggest regional newspapers have failed to reverse sliding sales, according to new official figures.
The Press and Journal and the Courier both abandoned their traditional broadsheet format early last year and are now printed on tabloid-sized pages.
The Courier's average daily sale from June and December was 53,250 - down nearly 11% on the same period in 2011.
The Press and Journal's sales dropped 1.6% to 66,700.
Like those Dundee and Aberdeen-based titles, sales of the Glasgow-based Herald newspaper also dropped, to an average of 43,150 over the six months.
This is the first set of sales figures for the Herald and the Sunday Herald since a change in the way they are announced.
'Regional' titles
The Audit Bureau of Circulations, which produces the figures, was asked by the two papers to treat them as "regional" titles rather than national ones. This means their sales figures are now released every six months instead of monthly.
The Scotsman and the other papers that circulate widely across the whole of Scotland still have their sales figures published monthly.
A breakdown of the Herald's sales figures shows that, in December, it sold 42,500 copies a day compared to 46,300 in December 2011.
Previously released figures show its Edinburgh rival, The Scotsman, dropped much further and faster over the same period from, 38,650 to 32,500.
The Sunday Herald averaged 25,840 over the six months. Between December 2011 and December 2013, it dropped from 28,800 to 24,900.
Across the UK as a whole, almost every daily regional paper experienced a sales fall on the year.
One of the few exceptions was the Paisley Daily Express, while the Press and Journal's performance was actually one of the best in the country in relative terms.