Arran Brewery puts expansion plans on hold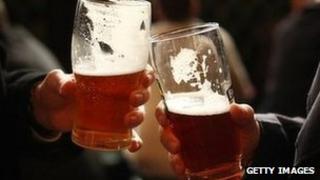 Arran Brewery has put its expansion plans on hold after failing to secure a Scottish government grant.
The firm had applied for a £1m grant to expand its brewery on Arran and build a new bottling plant on the mainland.
But the plans, which included creating 77 jobs, have now been postponed.
The Scottish government said Arran had not met the grant scheme criteria, but officials would continue to work with the brewery to support its development plans.
Arran Brewery managing director Gerald Michaluk said the company had applied for a grant under the Food Processing, Marketing and Co-operation (FPMC) scheme in order to bring down production costs through expansion.
Duty rate rises
"We make only on average 6p profit on a bottle of Arran Beer and pay 24p duty," he explained.
"As we move above 500,000 litres of beer produced, the duty rate rises to as much as 49p a bottle - clearly much higher than our 6p profit.
"As we refuse to compromise on quality of ingredients, the only way to continue to make a profit is to have efficient brewing equipment that can save us 50p a bottle in production costs.
"This is why we applied for a grant from the Scottish government so we could continue to expand our business.
"Without grant assistance, a brewery of this size on an island like Arran is simply not economic, but with a grant, we could have made the numbers work and created sustainable jobs both here on Arran and on the mainland in a new bottling facility that would have shaved a few more pence off costs."
Mr Michaluk said Arran had also been forced to suspend a planned merger with the Isle of Skye Brewery as the combined company would produce considerably more than the current 24p duty threshold of 500,000 litres a year.
'Cash-limited' scheme
A Scottish government spokesman said: "The Food Processing, Marketing and Co-operation (FPMC) grant scheme is competitive and cash-limited and it is therefore inevitable that not all applications can be successful.
"Arran Brewery's application was considered by a committee of food and drink specialists that makes funding recommendations to Scottish ministers.
"The committee concluded that Arran Brewery's application (for support towards the cost of establishing a new brewery on Arran) did not sufficiently met the FPMC scheme criteria.
"The company are able to further appeal the decision and we are currently in discussion with them on this point.
"Ministers understand that the company is disappointed at this setback and have asked officials to continue to work with Arran Brewery to support them with their development plans."