Whisky firm Edrington Group fined over warehouse fire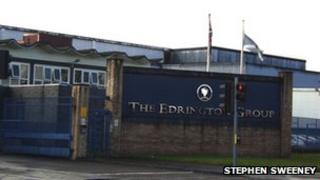 The maker of Famous Grouse has been fined £40,000 for safety failures that forced two workers to flee a warehouse fire.
The blaze at the Edrington Group's site in Glasgow in June 2011 happened when liquid hit a light fitting as casks were being filled with whisky.
A Health and Safety Executive probe found lights should not have been used in a flammable atmosphere.
The company was fined after admitting breaking health and safety laws.
Glasgow Sheriff Court heard that two men were using flexible hoses on a metal walkway at the warehouse in Great Western Road in order to fill 450-litre casks with whisky that was being pumped from steel vats.
One of them said he felt his hose relax before a jet of whisky shot up towards a light fitting above a forklift truck.
It hit the fitting and a flame engulfed the cage of the truck, the HSE said.
Both men ran towards the stairs at the back of the warehouse, setting off the fire alarm as they left.
The whole site was then evacuated.
'Extremely lucky'
It was later discovered that 70 of the 110 sprinkler heads in the warehouse were activated.
HSE inspector David Stephen said the two workers were "extremely lucky" not to have been killed or seriously injured.
"More than 17,500 litres of whisky were lost during the incident," he added.
"This volume of flammable liquid could have served as fuel for a significant fire, which would have caused major disruption and damage to the environment.
"Had the company taken the simple steps of checking the light fittings were suitable for use in a flammable atmosphere and that the equipment used to transfer the alcohol was fit for purpose, this incident could have been prevented.
"Since the incident, the filling of whisky casks in this way at the premises has been made redundant with the introduction of a new tank facility in October 2011."