Nine Republic stores in Scotland sold to Sports Direct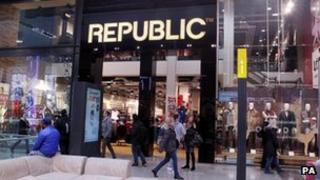 Nine Republic stores in Scotland have been bought by Sports Direct, following the recent collapse of the fashion chain.
Republic's administrators Ernst & Young said the move would safeguard 130 jobs north of the border.
Earlier in the week it was announced that five stores in Scotland would be closed at the cost of 97 jobs.
Leeds-based Republic went into administration two weeks ago following weak sales.
On Friday, Sports Direct purchased 116 Republic stores, the brand name and its head office.
It has also bought all Republic's stock, and sub-brands SoulCal, Fabric and Crafted.
The Scottish stores which have been sold are Aberdeen Bon Accord, Aberdeen Union Square, Braehead, East Kilbride, St James Centre (Edinburgh), Falkirk, Buchanan Galleries (Glasgow), Inverness and Livingston.
The stores facing closure are Dundee, Fort Kinnaird (Edinburgh), Glasgow Fort, Silverburn and Stirling.
Republic was launched in 1986, originally under the Best Jeans name.
It had 121 stores and 2,500 staff in total when it went into administration.