Bank study claims oil jobs bonanza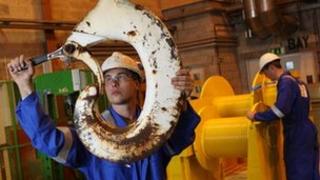 Oil and gas firms could create up to 34,000 jobs over the next two year, according to a study from Lloyds Banking Group.
The bank said 77% of companies in the sector it surveyed were planning for growth in 2013-14.
Most firms (86%) saw expansion coming from organic growth rather than from mergers and acquisition.
Just under a fifth were interested in diversifying into unconventional oil and gas, including fracking.
The study found that slightly more oil and gas equipment suppliers were expecting growth than exploration and production firms.
Scottish firms were more optimistic about their prospects than those in other parts of the UK.
However, the skills shortage within the industry remained one of the biggest issues for firms, with a third naming a shortage of skills as the biggest challenge they will face.
Stuart White, area director of Lloyds Bank Commercial Banking north of Scotland, said: "This is good news for the UK economy and north-east Scotland, in particular, where there is a concentration of oil and gas companies.
He added: "The 100 companies we surveyed have committed to creating 5,000 jobs, which, if replicated across the industry, would see tens of thousands of jobs created over the next two years."