Rangers report £7m operating loss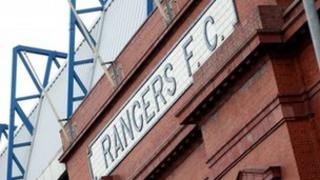 Rangers Football Club have reported an operating loss of £7m although they say "extraordinary progress" has been made.
Figures for the last seven months of 2012 reveal a pre-tax profit of £9.5m, although that was down to a one-off accounting credit of £20.5m.
The club said season ticket sales and average home league attendances were among the highest in the UK.
Chief executive Charles Green said he was in "awe" of the contribution supporters had made to the club.
He added: "This has been a significant period in the club's history, in which vital steps were taken to ensure the survival and rebuilding of one of the UK's most venerable football institutions.
"The priority for the company to date has been to stabilise the business and put in place solid financial foundations for the future."
However, Mr Green said that "given the club is in the unprecedented situation of playing in the Scottish League Division Three, there is, at this stage, a clear impact on a range of revenue streams".
He said this was particularly the case when it came to broadcasting. The club, he said, had "substantially reduced" operating costs and wages during the period.
This is the company's first set of results since floating on the stock exchange at the end of last year.