Scottish firms still optimistic despite fewer sales and slow growth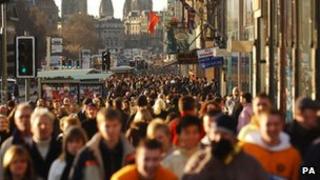 Confidence has risen among Scottish businesses, but it is still below that of their UK counterparts, according to a recent survey.
The ICAEW/Grant Thornton UK Business Confidence Monitor (BCM) found Scottish expectations remained comparatively strong.
Financial and business advice firm Grant Thornton said confidence rose slightly in the first quarter of 2013.
But the firm said the Scottish figures remain below the UK average.
Grant Thornton said the positive outlook came at a time of slow growth and declining sales.
Sales fallen
The firm said Scottish businesses had reported weak growth in several key performance indicators.
Sales volumes had declined, falling by 0.1% over the 12 months to the first three months of 2013.
Grant Thornton said the data on turnover was more encouraging, with businesses recording a modest increase of 0.8% for the year to the first quarter of 2013.
However, the last time turnover growth was slower was at the end of 2009.
The Business Confidence Monitor found that, despite this, expectations for 2013 were comparatively strong, with businesses expecting better times ahead.
Still optimism
However, the BCM also recorded less optimism among those surveyed than there was a year ago.
ICAEW Scotland president Shelah Dutta said: "While there is still a degree of optimism among Scottish business professionals, these results indicate that it is very much a case of being cautiously optimistic.
"Given recent Scottish Government data showing that GDP growth has been just 0.4% over the year to Q3 2012 and the headwinds that businesses anticipate, it is not surprising that confidence remains fragile."
Grant Thornton Scotland managing partner Andrew Howie said: "There is some encouragement to be taken from this quarter's data, as our experience is that many companies are more forward looking than they have been for some time.
"While plans for growth, recruitment and exports remain cautious, they are being made from a robust foundation.
"Scottish businesses just need the right support to help them move forward."