SPL fans criticise executive pay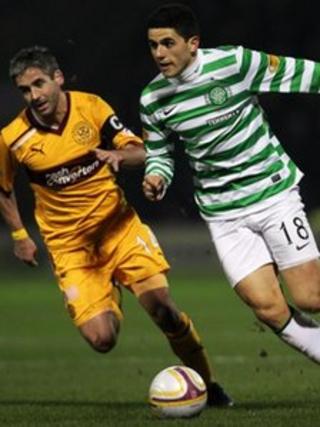 Football fans have criticised the Scottish Premier League (SPL) for awarding their directors an "inflation-busting" pay deal.
The latest SPL accounts show directors pay and benefits increased by 16.5%, despite a 6% fall in revenues.
The SPL said a new five-year television deal was a sign of improved finances.
But SPL Fans United questioned how the pay and benefits increase could be justified as a time when income was falling in harsh economic times.
The league's figures, which cover the year to May 2012 and do not take into account Rangers' drop out of the top league, show income at £21.4m.
Pay and benefits for the SPL's board of directors, which is approved by the member clubs, increased to £200,000.
A spokesperson for the recently formed SPL Fans United, a pressure group that campaigns for reform of the Scottish game, said: "I would think most fans would ask how the directors can justify that inflation-busting pay rise.
'Fans struggling'
"Given the current financial climate, it is disappointing to see SPL board directors taking a 16.5% pay rise.
"Given that income is falling and many SPL fans are struggling to attend games, it is unfortunate to see such rises in pay and remunerations."
That view was echoed by Simon Barrow, from Fans First Scotland, who said: "This raises the same questions about corporate pay as it does in other sectors of the economy.
"It's a sign of a wider failure where clubs are not being run in the interests of communities and fans but for corporate interests.
"Fans should have a stake in their clubs and in the SPL board."
Danny McWilliams, who runs the online Scottish football fan forum, Only An Excuse, said: "Over-inflated pay increases for directors while everyone else in the business suffers financially is something you'd expect from the banking sector, not from a football league.
"The SPL should not be a gravy train for under-achieving directors who are failing in their duty to provide an attractive and competitive product for football fans and sponsors."
The amount of money distributed to member clubs in Scotland's top league fell by £1.6m, a drop of about 9% on the 2010-11 season.
'Tough economic climate'
The SPL's directors said: "The tough economic climate within which the company (SPL) has operated in recent years looks likely to continue for some time.
"This is exacerbated by the absence of Rangers FC from the league competition for several seasons ahead.
"New arrangements were negotiated with Sky Sports and ESPN which are expected to provide an increase in revenues from domestic live television broadcasting of 25% over the next five years."
In July 2012, the SPL signed a new five-year TV deal with Sky and ESPN. Last month, BT Sport agreed to buy ESPN's UK and Ireland TV channels.
The league's current sponsorship deal with Clydesdale Bank is due to expire at the end of this season and a replacement has yet to be announced.
Scottish football is currently debating proposals to reorganise the league set-up, with the proposals including the merger of the SPL and the Scottish Football League into one body.