John Menzies increases profits despite restructuring costs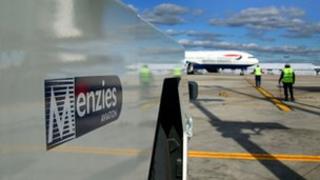 Edinburgh-based distribution and aviation firm John Menzies has announced a growth in profits despite "tough" market conditions.
The company's underlying profits were up 4% on 2011, despite restructuring and network rationalisation costs of more than £14m last year.
However, turnover fell from £1,996.8m, down from last year's record of £2bn.
Much of the growth came from the firm's aviation division which saw operating profits rise 10% to £35.6m.
Earlier this year John Menzies said it was shutting its loss-making cargo business at Chicago Airport in the US, at a cost of £7m.
The 180-year-old company said aviation division had won 30 new contracts during the year, delivering £19m in of revenue and renewing some 94 contracts worth £118m.
At Menzies Distribution, operating profit remained flat at £28.8m in what the company referred to as "challenging market conditions".
'Strong performance'
The company's chairman Iain Napier said: "The group continues to trade on a sound footing with both divisions returning good results. Market conditions remain tough but, despite this, we continue to deliver our targets.
"Menzies Aviation turned in a strong performance despite airline failures and currency headwinds. Future prospects remain good as we seek to deliver on our organic and selective acquisition growth plans.
"At Menzies Distribution the acquisition of Orbital Marketing Services Group provides the division with a highly synergistic business that will offer new areas of potential growth.
He added: "Overall, the group is well placed to continue to deliver growth."