Austerity concerns sees Scottish GDP growth downgraded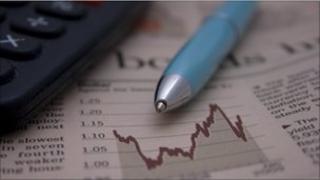 The Scottish economy grew in the third quarter of 2012, but austerity has cast doubt on whether that can be sustained, according to a new report.
The Fraser of Allander Institute said growth in Scotland has been weaker than expected and downgraded its forecast growth for gross domestic product.
GDP is now predicted to grow at just 0.9% in 2013 and 1.7% in 2014.
The Institute has called on the Chancellor to "look at all opportunities" to stimulate growth.
In line with the expected growth in the Scottish economy, the report also expects job creation to rise this year to 9,400, increasing to 19,150 in 2014 and 31,800 in 2015.
Unemployment concerns
But the Institute, which is based at Strathclyde University, is also predicting a slight deterioration in unemployment figures in the next two years due to weaker output and employment growth.
Unemployment is forecast to hit 218,300 by the end of 2013 and 228,500 in 2014, with falls predicted by the end of 2015 as the economy recovers.
Brian Ashcroft, emeritus professor of economics at the university, said: "We expect to see some modest growth in the Scottish economy this year.
"However, growth should be a lot higher than it is given, we are now five years on from the start of the Great Recession.
"Household demand, net trade and investment demand remain weak while fiscal austerity continues with 68% of planned benefit cuts and 78% of current departmental spending cuts still to come after April this year."
Austerity costs
Prof Ashcroft warned that more focus must be given to stimulating growth rather than just cutting the deficit.
He said: "Ironically, the UK lost its AAA credit rating not because of fiscal profligacy but because of austerity. The austerity has severely lowered growth and tax revenue prospects as affirmed by the IMF.
"The way is still open for a massive boost to infrastructure spending in the UK financed through additional borrowing at exceptionally low rates.
"If only the Chancellor would take it in his Budget on 20 March."
The study was sponsored by professional services firm PricewaterhouseCoopers.
Senior Edinburgh office partner Paul Brewer said: "Aside from the notable exception of the oil and gas sector, overall investment levels still weak.
"The Chancellor needs to look at all opportunities to stimulate investment and focus on the drivers of healthy sustainable growth in the Scottish and UK economy."