Jeyes confirms it will close it East Kilbride factory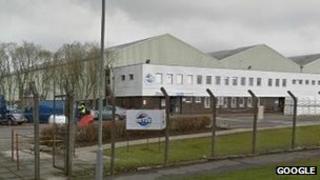 Cleaning product firm Jeyes has confirmed it will close its factory in East Kilbride with the loss of 110 jobs.
The manufacturer said the decision followed a review of the profitability and sustainability of maintaining the site.
It said a plan to save the plant backed by Scottish Enterprise did not offer a "robust solution" to the economics of keeping the facility running.
The factory had operated since 1970.
Jeyes said it expected to begin transferring work to its factory in Thetford, Norfolk, in August.
In October 2011, the directors launched a review of the business after a London-based private equity firm sold its shares to US investment house Strategic Value Partner.
Unsustainable operation
Following the review, the company decided to consolidate its operation, selling off parts of its business and shutting factories, citing tough economic conditions.
Last year, the firm announced it would also close its factory in Mold, Flintshire, with the loss of 117 jobs.
Jeyes' Interim Operations Director, Eric Houston, said: "We have informed our employees at our Colvilles Road site in East Kilbride, Scotland that, following an extensive consultation, closure of the site has been confirmed.
"Following a review of the profitability and sustainability of manufacturing at the site, we spent the last five months consulting with our employee representatives to ensure that all relevant factors were fully taken into account."
"We understand that this decision will come as a concern and disappointment to our hard-working, loyal staff and that the period up to and including closure will be a difficult time."
Local MSP Margaret McCulloch said: "This is a body blow for the local workforce at Jeyes and it's yet more bad news for manufacturing in East Kilbride.
"A strong and compelling case was made to keep Jeyes in East Kilbride, with input and support from the workforce, Scottish Enterprise and the Scottish Manufacturing Advisory Service.
"I was extremely disappointed to find out that their counter-proposal was rejected."