Red ink and black stuff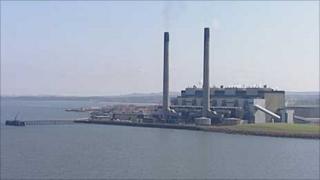 Coal's got a proud history, but recently, it's not been a happy one. And for Scotland's still beleaguered coalfield communities, the bad times have returned.
Today, the National Union of Mineworkers broke the news that Scotland's biggest surface (or opencast) miner has put 450 staff on notice of redundancy.
In Fife and South Lanarkshire, that's clearly bad news.
It's probably worse in East Ayrshire, where alternative employment is harder to find. SRG is probably the biggest employer in that area, after the council and health board.
Three months ago, ATH, with its 300 Scottish workers, was forced into administration.
A plan was announced last week to make it viable again. Durham-based Hargreaves Services paid £5m for ATH's debt along with its secured assets.
Hargreaves is already a significant operator of deep mines and an importer of coal.
Part of its new Scottish plan, working with the Scottish government, is to direct some of the profits Hargreaves can expect towards restoring the eyesore left by ATH's activities.
There was also bad news today for Nottinghamshire miners, but with a different reason. A serious fire has forced their deep mine to close, with the loss of more than 600 jobs.
Emission impossible?
What's gone wrong for mining? The story of the deep mines' closure is a painful one and still burns deep in these coalfield communities.
Scotland's last deep mine, Longannet, under Fife and the Forth, stopped production in 2002 when it flooded.
The industry's now down to fewer than 2000 directly-employed workers in surface mining. So the 450 Scottish Resource Group staff constitute nearly quarter of the total, while the 300 at ATH remain precarious.
Coal is facing an uphill struggle against the environment. Because it's dirty, power generators want to replace it, as they pay a heavy cost if they don't.
Clean burn of coal, using carbon capture technology, could work, but it hasn't yet been made to do so commercially.
And it faces new challenges from gas. In the Atlantic market for coal, prices have been driven down by the boom in American shale fracking.
With gas cheap, and relatively clean, US power generators have switched, leaving a glut of coal, thus driving down coal prices.
Three years ago, the price index was around $200 per tonne. For the past year or so, it's been less than two-thirds that. To buy the average tonne of coal next month would cost you less than $87.
Distant digging
The biggest user of coal in Scotland is Scottish Power, which burns four to five million tonnes of the year each year at Longannet power station, and Cockenzie in East Lothian.
Less than half of that is from Scottish output. Yet it imports most of its coal from Russia and Colombia.
It seems hard to believe you can take coal so far round the world at competitive rates. But the imports are helped by having lower sulphur, which means lower emissions.
And I'm told that it's much easier to extract coal from Colombian or Russian mines than Scottish ones, where there can be nearly 30 tonnes of discard for every tonne of coal.
You can also comment or follow Douglas Fraser on Twitter: @BBCDouglsFraser