Clydesdale Bank and Yorkshire Bank to shed 130 staff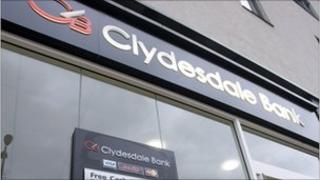 The Clydesdale Bank, along with its partner, Yorkshire Bank, is to shed 130 staff, following moves to close down its financial advice division for private and business banking.
An advice service will continue at main branches, through a deal with Axa.
The cuts, 51 of which are to be in Scotland, are among 1,400 job losses the Australian-owned lender announced last year.
The union Unite has described the move as "a cruel decision".
National Australia Group said the decision was taken after "careful consideration" and was "part of our commitment to focus our support for customers across our core retail and business banking strengths".
Alternative employment
The job losses will take place at the bank's wealth business in areas including Glasgow and Leeds.
Unite's national officer Dominic Hook said: "NAG raised the hopes of staff then announced today they no longer have a job. The company invested money to train the staff to meet new regulatory requirements giving them hope for the future.
"Now they have been told that the company has changed its mind and decided to close the business down. This is a cruel decision for workers with years of loyal service.
"We are demanding that the company does everything possible to help find the staff alternative employment within the company or elsewhere in the financial services sector."
A spokesman for NAG said: "The service provides financial advice to customers within the Business and Private Bank and includes the sale of investment and protection products.
"This decision does not impact on any of the advice customers have received or policies they already hold.
"Customers are being provided with 90 days' notice of this change and we will continue to provide financial advice service support until 14 June 2013."
He added: "We are providing support for the 130 employees impacted by this change.
"While there may be some opportunities for redeployment, the overall role reduction of 1,400 announced in April of last year remains unchanged."