Administrators for law firm Semple Fraser announce 62 redundancies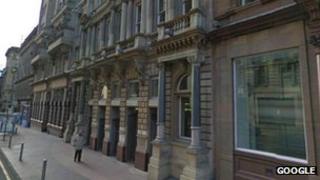 Administrators for collapsed Scottish law firm Semple Fraser have announced 62 staff redundancies.
They have sold on parts of the corporate law partnership to firms in Glasgow, Edinburgh and Manchester - including Maclay Murray and Spens, Dundas and Wilson, and Weightmans.
Legal trainees are being taken on by other firms to complete their courses.
Semple Fraser was forced to call in administrators due to a downturn in demand for corporate law work.
The company, headquartered in Glasgow, was formed in 1993 and had 20 partners and about 100 staff.
Tom MacLennan, joint administrator and head of restructuring for RSM Tenon in Scotland, said: "The events of the last few weeks have been very demanding for the partners and staff of Semple Fraser and I would like to express our appreciation for their commitment and professionalism in addressing the difficulties as we worked to achieve the best outcome for clients and staff in very difficult circumstances.
"I would also pay particular appreciation to various legal practices that have stepped in to ensure all legal trainees would be able to complete their training and to The Law Society of Scotland and the Solicitors Regulation Authority for their support and assistance during this process."