Fire sale of Clydesdale ruled out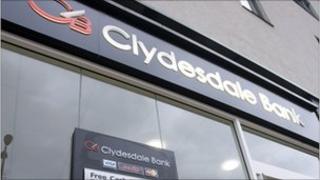 The parent company of the Clydesdale bank has said it will not engage in a "desperate fire sale" of its UK businesses.
National Australia Bank (NAB) has announced restructuring plans to save up to A$800m (£555m) a year.
There has been speculation that NAB may sell off its UK unit which includes the Clydesdale and Yorkshire banks.
NAB's chief executive Cameron Clyne described the UK business as "a problem asset".
The UK operations have been performing poorly in comparison to the group's businesses elsewhere.
In its last financial year to September 2012, the Clydesdale reported a pre-tax loss of £183m.
Mr Clyne said: "We will continue to manage the UK."
"There have been very, very limited options that we could have undertaken."
He added: "There may be a point that we cut and take some issue with the UK, but I don't think that is practical."
There was speculation earlier this year that Santander was considering a bid for the 337 Clydesdale and Yorkshire bank branches although the Spanish bank denied it was in talks with NAB.
Last year, the Australian-based group announced a strategic review of its UK business which led to hundreds of job losses.
NAB said this latest restructuring exercise was needed to adapt to the changing needs of its customers and to capitalise on their links to Asia.
Meanwhile, Lloyds Banking Group is to shed 117 jobs in Scotland as it works through its two-year programme of cost-cutting.
Lloyds TSB Scotland, which is part of the group, is shutting the division that handles mortgage sales through financial advisers, as it prepares its planned sale to the Co-operative Bank.