Laying down the law
If the Co-op can sell you groceries, bank your money and bury you, why not get a Co-op divorce as well? At the Business Scotland programme, we've had a strong hint that's on the way.
Since last year, you've been able to handle such family law cases and much else besides in England and Wales. More than 500 people - some lawyers, a lot of paralegals - are employed in regional hubs, where people access the law through Co-operative Legal Services, mostly by phone or email.
It's taking advantage of the Alternative Business Structures (ABS) law, which was known as Tesco law, in the expectation that the supermarket chain would move into legal services as well as so much else. It hasn't. But others are opening up the legal services market south of the border.
There's legislation on parallel legal reform on the Scottish statute book, but it's taking a long time to come into practice. The fundamental difference is that at least 51% of any ABS firm has to be controlled by "a regulated professional" - not necessarily a lawyer to trade.
Regulators regulated
The first step is to register the regulators, and that's taking a long time. Having long monopolised that role, the Law Society of Scotland has applied for registration and is working, very slowly, through the process with the Scottish government.
Lorna Jack, chief executive of the Law Society of Scotland, says it's had around 40 expressions of interest from those who may register under the ABS law. But, she adds, none of them have the look of the radical new business model that could really shake up the market.
The Co-op could change that. Ian Mackie, marketing director at the English offshoot of the Co-operative Group, told me: "Scotland is in an interesting situation; certainly Co-operative Legal Services has been party to and lobbying for changes in England and Wales for a number of years because we truly believe that the alternative business structures enable companies like Co-op to enter into the market and offer choice to the customer.
"We do believe that Scotland is in a situation to also reflect on the situation in England and maybe follow down a similar footpath.
"We'd certainly like to review the situation in Scotland. We have a very large co-operative membership in Scotland, and we have a lot of members and customers that we would like to meet and satisfy their needs."
'Worries out there'
That is one of many changes affecting and afflicting the sector in Scotland. Semple Fraser, the corporate law firm in Edinburgh and Glasgow, was placed in the hands of administrators last weekend, with 62 job losses.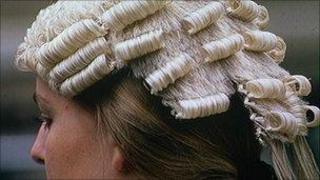 According to Steven Raeburn, editor of The Firm legal website, more are likely, and several of the mergers and takeovers in the past four years have been due to legal partnerships being in distress.
"They've been consequences of market pressure, trading difficulties, downturns in certain sectors and it's an obvious solution to seek a merger partner and to limit your duplicated costs and so on. But (after) Semple Fraser did not go down the way of a finding a merger partner or of even seeking a merger partner, but just folding the business, there would be no reason to think that would be the last."
The Law Society's Lorna Jack confirmed those concerns: "I think we have some worries out there. I don't think this is the end of these kind of moves. I think you need to go right back to 2008 when the collective turnover of the legal profession at that time was £1.2bn and within a year that had fallen to £1bn.
"That's a big cut for any industry to sustain. Firms made some of the right moves at that time in terms of cost-cutting, getting rid of properties when they could, but we're still a long way through what has been the biggest downturn for this sector that they have ever experienced."
While Steven Raeburn argues many lawyers lack the business skills to take on the challenges, some firms are adopting new business models. On Business Scotland, we heard from Vialex, in corporate law in Edinburgh, and from Law at Work, offering fixed-fee and subscription models of funding to replace conventional billing. At Vialex, Keith Anderson aims to offer an outsourcing of in-house legal services.
Jane Wright, comes from marketing at GSK and Diageo to become chief executive of Law at Work, which spun out from Maclay Murray & Spens last year. She says the fixed fee model means that clients pick up the phone far earlier, without cost being an issue, and that way, they can head off legal problems and reduce the chances of expensive tribunals or litigation.
You can hear Business Scotland at 6am on Saturday 16 and 10am on Sunday 17 March, BBC Radio Scotland, and after then, by free download http://www.bbc.co.uk/podcasts/series/scotbiz and on BBC iPlayer.