Fallen Angel rescued by investment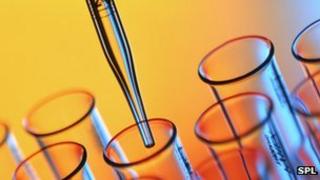 Part of life sciences firm Angel Biotechnology has been rescued with the launch of a new company and fresh investment.
Administrators were called in to Angel earlier this year.
A new company called Collbio, which was assembled by former managers and an investment group, has bought some of the assets from the original firm.
Glasgow-based Collbio will focus on producing medical grade collagen, after winning a "major" contract.
Although the previous business had not been profitable, Collbio's new chief executive Stewart White said he was confident the new firm would be a success.
He added: "I think that focus and drive can certainly realise the opportunities for the business moving forward."
Collagen has been used for decades in a whole range of medical devices.
Mr White said more recently it had been used in Scotland as a "scaffold" for "patients cells to be grown and either implanted or put back in the body".
The company recently won a contract with a US company for the treatment of diabetic foot ulcers.
Investment firm Diagnostic Capital, which set up Collbio, said the deal was a sign of confidence returning to the life sciences sector.
'Very tough'
Diagnostic principal Alex Clarkston said: "It's been very tough for about two or three years, there's been a lack of capital around and a lack of risk-taking in truth but it is starting to pick up this year, although not back to pre-recession levels."
He said he saw Collbio as an "opportunity" because it had "good scientific capability".
Mr Clarkston acknowledged it was not always easy to predict success in the life sciences sector.
He added: "You're having to place a lot of reliance on people cleverer than me - I am an accountant and I rely on people telling me that the underlying science is good."
"You also need to rely on your instinct on where a market opportunity lies."