Tenants 'unaware' of deposit schemes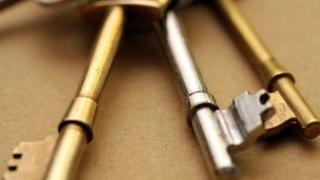 More than half of people renting their home from a private landlord are unaware of new deposit protection schemes, according to a survey.
Regulations drawn up by Scottish ministers require landlords and letting agents to hand over deposits to an approved third party for safekeeping.
They were introduced in a bid to prevent landlords from holding on to tenants' money on false grounds.
But a poll suggested 55% of private tenants did not know about them.
The Scottish government said there had been a "strong uptake" for the schemes but added it would continue to work with approved operators to help increase "understanding and awareness".
The survey was carried out on behalf of SafeDeposits Scotland, which runs one of three approved tenancy deposit schemes operating in Scotland.
It indicated that 76% were not aware that money from deposits needed to be placed in a tenancy deposit protection scheme.
And less than a fifth of those renting from a private landlord said they knew that deposits needed to be lodged with such a scheme by the final deadline of 15 May.
'Worrying'
Rebecca Johnston, director of operations at SafeDeposits Scotland, said: "With just under two months to go to the day until all deposits for privately rented properties in Scotland need to be secured in a tenancy deposit scheme, these figures show a worrying low level of awareness.
"At a time when the private rented sector is growing, we need to provide safe, secure renting. And the new tenancy deposit protection legislation goes some way towards this, but only if tenants know about their rights."
She added: "We urge all landlords to sign up to the scheme to make sure their tenants' deposits are securely held, avoid financial penalties and help to make the private rented sector in Scotland the best in the world."
A Scottish government spokesman said there had been a "strong uptake" for the tenancy deposit schemes.
He added: "Up to the end of January this year, Scotland's three tenancy deposit schemes have protected nearly 112,000 deposits with a total value in excess of £74m.
"This is in advance of the final deadline for private landlords to lodge all eligible deposits by 15 May.
"However, we will continue to work with the three approved tenancy deposit schemes - who have a legal responsibility to promote their schemes - to increase understanding and awareness of the schemes amongst tenants, landlords and their agents."