Stagecoach invests $20m in new US coaches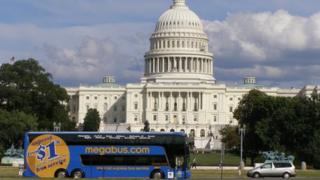 Stagecoach has announced it is investing more than $20m (£13.2m) in a fleet of new coaches for its growing operations in North America.
The Perth-based transport group is introducing a fleet of 51 coaches in three subsidiaries based in Ohio, Chicago and New Jersey.
The first of the vehicles will be delivered this month.
Stagecoach said all of the new coaches were expected to be in operation by the end of July.
Dale Moser, president and chief executive of Stagecoach Group's North America division, said: "We are continuing to see good growth in our local and inter-city transportation services in the United States and Canada.
"This latest investment will allow us to deliver a safe, reliable and good value service to our customers."
The North America division operates through 25 independent local carriers. In total, it runs 2,900 buses and coaches and employs about 4,800 people.
Stagecoach's Megabus.com service covers more than 100 cities in North America.
In January, Stagecoach announced it was investing more than £75m in hundreds of new vehicles for the firm's operations in the UK and Continental Europe.
The Alexander Dennis plant in Falkirk is building 351 of the 432 vehicles which have been ordered.