AG Barr reports rise in annual profits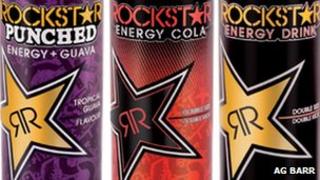 Irn Bru maker AG Barr has reported a rise in turnover and profits as it awaits the outcome of an investigation by the Competition Commission into its proposed merger with Britvic.
The Cumbernauld-based company saw revenues climb by 6.6% in the year to January to £237.6m.
Pre-tax profit increased by 4.3% to £35m.
Its results were boosted by growth in core brands Irn Bru, Barr, Rubicon and KA.
The company also reported that Rockstar, the American energy drink brand which Barr sells and distributes in the UK and Ireland under a franchise agreement, performed "particularly strongly".
Chief executive Roger White said the firm had delivered a "robust financial performance", despite difficult market conditions including poor summer weather.
Mr White also said the business had remained focused despite the "added distraction" of the merger discussions with Britvic.
The Competition Commission is investigating the merger move after concerns were raised by the Office of Fair Trading that the deal could reduce competition between certain brands.
Under the merger, the new company - Barr Britvic Soft Drinks plc - would become one of Europe's largest soft drink firms, with annual sales of more than £1.5bn.
Mr White said: "We are now entering a period of significant workload associated with the Competition Commission enquiry, however the AG Barr board considers there to be a compelling rationale for clearance and that the benefits of the transaction remain significant for both shareholder groups.
"While we await the Competition Commission's findings, we will continue to build and develop our plans to ensure the long-term success of AG Barr as a standalone business.
"Our new operating capacity at Milton Keynes will come on-stream during the summer of 2013 and our investment in our brands and sales execution activities will continue unabated."
He added: "We remain confident in our future prospects both as a standalone business and combined with Britvic plc."