Laid-off Semple Fraser lawyers find new jobs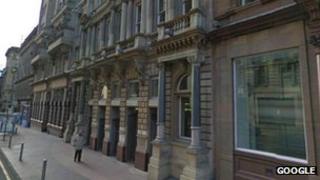 Most of the 25 lawyers who were made redundant when law firm Semple Fraser collapsed two weeks ago have already found jobs with other firms, according to administrator RSM Tenon.
The administrator said 18 solicitors had secured new roles, while 12 trainees had been taken on elsewhere.
A further three trainees will start working with other firms in September.
Semple Fraser was forced to call in the administrator due to a downturn in demand for corporate law work.
RSM Tenon announced 62 staff redundancies and sold on parts of the corporate law partnership to firms in Glasgow, Edinburgh and Manchester.
'Provide employment'
Glasgow-based Semple Fraser was formed in 1993 and had 20 partners and about 100 staff before its collapse.
RSM Tenon said it was confident that other legal and administrative staff would find work "during the coming weeks".
Joint administrator Tom MacLennan said: "We are pleased at the progress made since the administration and grateful to those firms that have moved so quickly to provide employment for former staff.
"We hope that a number of the administrative staff have also found fresh employment during the last two weeks and that circumstances will improve for those that have yet to find work."