Greenpeace wins Cairn Energy 'polar bear' court case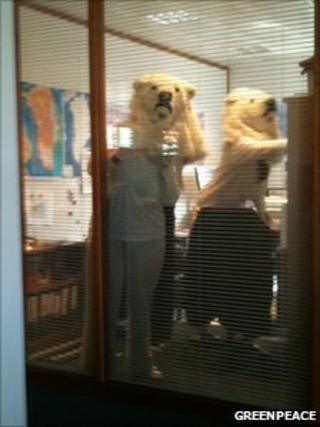 Cairn Energy has failed in a bid to win a permanent court order preventing Greenpeace International (GPI) from holding protests at its offices.
Cairn secured an interim interdict against Greenpeace in 2011 after about 40 campaigners, some dressed as polar bears, barricaded themselves in Cairn's offices in Edinburgh.
They were protesting over the oil explorer's Arctic drilling operations.
A Court of Session ruling found GPI was not directly involved in the protest.
The interim interdict was granted in July 2011 against Netherlands-based GPI and other Greenpeace groups.
Two UK-based Greenpeace organisations, Greenpeace UK and Greenpeace Limited, gave court undertakings at the time not to carry out similar protests at Cairn's offices in the future.
But GPI gave no such undertaking, prompting Cairn to seek a permanent interdict against GPI at the Court of Session.
On Wednesday Lord Glennie ruled in favour of the campaign group.
In a written judgment, the judge said he accepted GPI was a separate legal entity from the other Greenpeace bodies and had "no power of direction over them".
Cairn had claimed that the raid on its Edinburgh offices was part of a GPI-led Greenpeace campaign to get hold of Cairns's oil spill response plan and encourage a moratorium on drilling in the Arctic.
'Not persuaded'
But Lord Glennie said: "I am not persuaded that GPI itself, as opposed to other emanations of Greenpeace, was directly involved either in planning the invasion of the petitioner's premises on 18 July 2011 or in carrying out that invasion.
"There was no direct evidence that it was involved, nor was there any other evidence from which their direct involvement in the planning or carrying out of that invasion could be inferred."
In a statement, Cairn said it noted that court enforceable undertakings were agreed by Greenpeace UK and Greenpeace Limited in 2011.
It continued: "These have the effect of permanent interdicts upon those Greenpeace organisations.
"These were obtained by Cairn after certain Greenpeace organisations breached security and occupied Cairn's offices in Edinburgh on 18 July 2011.
"Cairn initially raised these proceedings in Edinburgh in July 2011 against certain Greenpeace bodies as demonstrators (claiming to be members of Greenpeace) were occupying Cairn's headquarters in Edinburgh."
It added: "While the undertakings by certain Greenpeace UK organisations remain in place that prevent them from carrying out similar action in the future, the Court of Session has decided not to uphold the interim interdict against Stichting Greenpeace Council (Greenpeace International)."
Responding to the ruling, Greenpeace International Arctic campaigner Ben Ayliffe said: "We're delighted that this attempt to lump together two entirely separate parts of Greenpeace has failed.
"The idea that there was a grand and secretive global conspiracy between Greenpeace International and Greenpeace UK to send a group of fancy dress polar bears into Cairn's office is ludicrous.
"Thankfully the judge agreed and Cairn's attempt to stifle public protest over its operations looks as ill-judged as its Arctic drilling programme."