Concern over rates change for empty business premises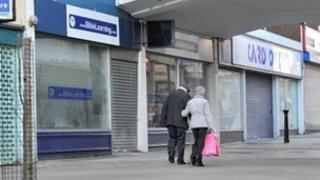 Companies face paying a total of £36m in extra business rates over the next two years, according to CBI Scotland.
The Unoccupied Properties Act has come into force, removing the 50% rates discount for empty premises and making firms liable for 90% of the charge.
The business lobby organisation has described it as a "tax on distress".
The Scottish government said it had the most generous business rates relief in the UK, and its Fresh Start scheme would help get buildings back into use.
A spokesman said: "We have the most competitive business rates regime in the UK, worth more than £560m next year.
"Incentives to encourage investment include a relief for new empty properties built in Scotland from 1 April 2013 and our 'Fresh Start' scheme, which focuses on helping landlords or developers attract occupiers to certain long term empty properties."
'Carrot and stick'
However, CBI Scotland Assistant Director David Lonsdale described the increase in empty property rates as "bewildering and disappointing" and "wholly at odds with Scottish government promises to promote private sector investment".
He said: "When unveiling this tax rise the Scottish government's finance secretary said it would 'incentivise' the use of empty commercial premises, however for our members it feels more like a stick than a carrot.
"After all, commercial premises are rarely left empty on purpose and particularly where they do not generate an income."
Mr Lonsdale said that when coupled with the supplementary rates levy on larger retailers introduced last year, it meant £131m additional business rate taxes were being introduced over three years.
As well as the changes to business rates relief, the act has given local authorities the power to increase the council tax on homes that have been empty for a year or more by up to 100%.