Bank survey suggests Scottish economy 'barely growing'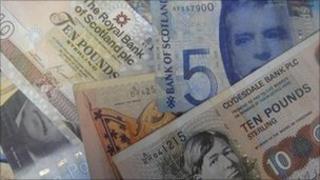 The Scottish economy has improved marginally after stagnating in the autumn, a new report has suggested.
The Bank of Scotland's latest business monitor found a slight rise in firms reporting increased turnover in the three months to February.
Companies' expectations about turnover over the next six months were also slightly higher than the previous survey period.
However, the bank said it suggested "an economy barely growing".
In the latest quarter, 29% of firms surveyed increased turnover, 37% experienced static turnover, and just over a third experienced a decrease.
This gave a net balance of -5%, which was a slight improvement on the previous quarter and the same quarter a year ago.
The overall net balance of turnover for firms in the production sector was marginally up on the last survey period.
Service businesses showed a larger improvement, while export activity was slightly worse than the previous figures.
Expectations
Expectations for turnover in the next six months showed an overall net balance of +1%, while future export expectations fell from the last quarter but remained positive overall.
Bank of Scotland chief economist Donald MacRae said: "Despite the apparent poor performance in autumn, business expectations for 2013 have improved from a low position.
"A return to more vigorous growth in the Scottish economy awaits a further increase in confidence in both consumers and businesses.
"This in turn depends upon building on policy measures to contain the eurozone sovereign debt crisis and implementing policies to restore the eurozone and UK economies to growth."
Finance Secretary John Swinney welcomed the report, saying the Scottish government was "doing all it can" to strengthen the Scottish economy.
He added: "In the face of UK government spending cuts we are doing everything in our power to stimulate Scotland's economy, invest in our young people, protect households and support frontline services and we will continue to call on the UK government to do more."