Glasgow travel firm Minoan rebrands high street shops as Stewart Travel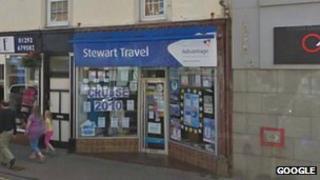 Travel company Minoan Group is to rebrand all of its high street shops under the Stewart Travel banner.
The firm has until now treated Stewart Travel, King Travel, Semple Travel and Classic Travel as separate entities, following a series of acquisitions.
They will now all come under the Stewart Travel brand.
Glasgow-based Minoan said the move was designed to "unify its High Street presence" under the banner of a long-established name in travel.
The changeover began on Thursday with the launch of a new Stewart Travel branch in Ayr.
Minoan is closing two outlets in the town - a Stewart Travel operation and a separate King World Travel shop - and transferring eight staff from both businesses to the new branch.
Minoan chief executive Duncan Wilson said: "Recent focus group discussions have reinforced our belief that the name Stewart Travel, with its 40 years of history, has the widest current recognition and the brand values associated with it are those closest to those which we wish to become our hallmark."
King World Travel's other branches will also be rebranded under the Stewart banner in the next few months.
Minoan said it was planning to expand its business with more stores in Glasgow, Edinburgh and Aberdeen while still pursuing further acquisitions in the sector.
The company, which now employs almost 200 staff in Scotland, last month reported turnover had soared from £7.4m to £37.4m in the 12 months to the end of October.