MSP calls on locals to support Dundee online Culture bid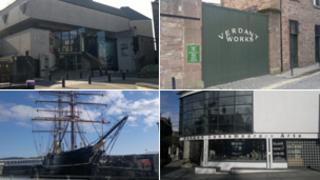 A Dundee MSP has called on the city's residents to back an internet campaign supporting Dundee's bid for UK city of culture bid.
Shona Robison, who represents the Dundee City East ward, has added her name to the online petition.
The city is one of 11 places, including Aberdeen, hoping to achieve culture status for 2017.
The wedundee.com website is asking locals to submit 2,017 reasons why the city should win.
More 400 people have already given their views on why Dundee deserves to be the next UK City of Culture.
The website has been produced by the Fleet Collective, an initiative that brings together the city's creative workers.
Surprising city
The Fleet has described the campaign as "an opportunity to remind ourselves what an astonishing place Dundee is, and what remarkable people live and work here".
In a statement, the Fleet said: "We want to show the competition judges that there's more to Dundee than they (or we) might think - that it's a city full of surprises.
"We want to give them 2,017 reasons to think of us as the best place for the City of Culture to be."
Run by the UK government, the UK City of Culture programme was inspired by Liverpool's time as European Capital of Culture in 2008.
The idea was for cities to look at their cultural identities, their heritage and assets and also as a means of letting the rest of the world know what they have to offer.
The case for Dundee is currently being put together and will be submitted before the 30 April deadline.
Dundee's bid will highlight the presence of facilities like the V&A at Dundee, Dundee Rep theatre, the Dundee Contemporary Arts and The McManus.
The universities of Dundee and Abertay, alongside Dundee Heritage Trust and a range of local attractions and events, will also be used to advertise the city's cultural credentials.