Glasgow and Edinburgh airports see flat passenger traffic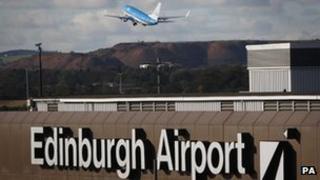 Passenger numbers were flat at two of Scotland's busiest airports last month, according to new figures.
Edinburgh Airport reported a year-on-year fall of 0.1%, with a drop in domestic traffic offsetting growth in international passenger numbers.
It was the first rise in international figures at the airport since September.
Meanwhile, demand for international travel also lifted passenger numbers slightly at Glasgow Airport, as it reported growth of 0.6%.
Aberdeen Airport saw a 3% fall on the same period last year, which it said was solely down to a drop in helicopter passengers, following the grounding of the Super Puma EC 225 since a helicopter ditched off Shetland last October.
Edinburgh saw a total of 699,607 passengers passing through the airport in March.
International traffic increased year-on-year by 4.2%, while domestic passenger numbers fell by 3.6%.
Edinburgh blamed the fall on recent airport closures around the UK because of bad weather.
'Busy month'
Edinburgh Airport chief executive Gordon Dewar said: "Despite the bad weather, March was a busy month for Edinburgh Airport with a number of new routes launching over the last few weeks.
"As a result we have seen an increase in the number of international passengers travelling with us and we look forward to this continuing throughout the spring and summer."
More than 510,000 people travelled through Glasgow Airport last month, slightly up on a year ago.
Glasgow said demand for international travel had been boosted by the launch of Wizz Air flights to Warsaw and Gdansk in Poland and a decision by Icelandair to introduce a fourth weekly service to Reykjavik.
Numbers were also lifted by Celtic's Champions League fixture against Juventus, which resulted in additional international traffic.
Glasgow Airport managing director Amanda McMillan said: "The addition of new routes, such as Wizz Air's services to Poland, has been key to our recent success in growing passenger numbers and we will continue to work towards providing customers with greater choice."
Numbers 'disappointing'
Meanwhile, Aberdeen saw 267,341 people using the airport last month.
Helicopter traffic numbers fell by 18%, although this was slightly offset by growth in domestic fixed-wing services.
Commercial director Carol Benzie described the numbers as "disappointing".
She added: "The issues faced in light of the challenges with the specific EC225 helicopter model have been well documented.
"Whilst the industry remains optimistic that a solution will be reached, we are remaining close to them to continue the dialogue and understand their challenges."