St Enoch shopping centre in Glasgow put up for sale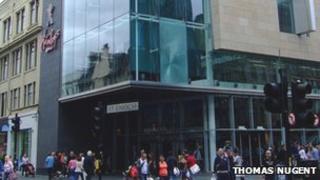 St Enoch shopping centre in Glasgow has been put up for sale.
It is understood its Canadian owner, Ivanhoe Cambridge, has put a price tag of about £180m on the complex.
Ivanhoe reportedly paid almost £350m for the centre in 2005 in a joint venture with US firm Mills Corporation. A year later it acquired Mills' 50% stake to become full owner.
In 2010, 40 new retail spaces were added at St Enoch as part of a £150m redevelopment project.
The centre had been owned by the Church Commissioners and Sears Properties Limited until 1996 when it was sold to a German pension fund called Deka Immobillien for £160m, before being acquired nine years later by Ivanhoe Cambridge.
St Enoch says it attracts more than 19 million shoppers each year.